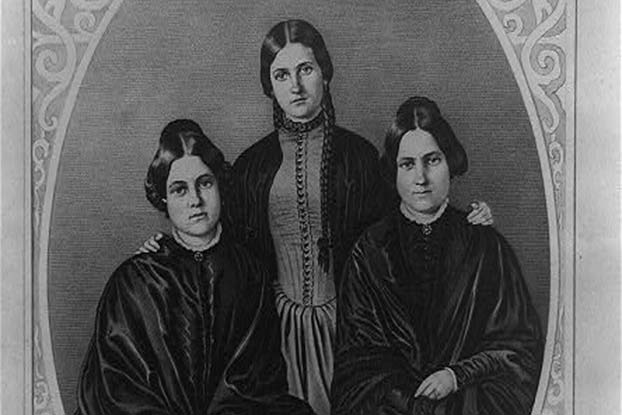 Modern spiritualism is based on the belief that the living can communicate with the spirits of the deceased. Of course, this communication would only be possible if our souls could survive our physical deaths. For this reason, a major tenet of spiritualism is the continuity of life beyond our corporeal bodies.
Spiritualists often turn to psychic mediums to make this contact directly. As a leading psychic medium practicing in Boston, I have the ability to open myself up to the spirit world and communicate with our lost loved ones. Connection with the spiritual world should not be something that is feared. It can, in fact, result in spiritual healing, putting both you, and those you have lost, at peace.
Today, we'll take a look at the origins of this practice in the US.
The Fox Sisters
In 1848, the previous, as well as then current, owners of a house in Hydesville, New York, reported unexplained knocking sounds at night. Two daughters living there, Kate and Margaret Fox, alleged that the supernatural events were made by the spirit of a peddler who had been murdered in the home. But how could they have known this?
Kate Fox, the youngest daughter, first engaged in direct communication with the spirit by asking it to repeat a series of knocking sounds that she would indicate by snapping her fingers. After this success, the children devised a way to communicate with the spirit based on a code of knocks, thus determining its identity.
The Hydesville events made the girls infamous, and the Fox sisters then moved to Rochester, New York. The knocking noises followed. They demonstrated their abilities publicly, and eventually acted as mediums across both the United States and England, communicating with spirits by "table turning." During this activity, participants would place their hands on a table that would vibrate or rotate when contact with a spirit was made.
While tests carried out in 1851 suggested the girls were faking the noises, their reputation wasn't tarnished. In 1888, however, Margaret Fox said the entire thing was a hoax. (It should be noted she was paid a good sum of money to make this declaration.) She later recanted her confession, returning to the promotion of Spiritualism, but this was a blow to the movement. It did not, however, defeat it.
Contact Boston's Top Psychic Today
Are you ready to get in touch with your intuition and figure out your true goals in life? If you're interested in scheduling an intuitive session with Boston's top psychic, CLICK HERE to book your ZOOM or phone session.