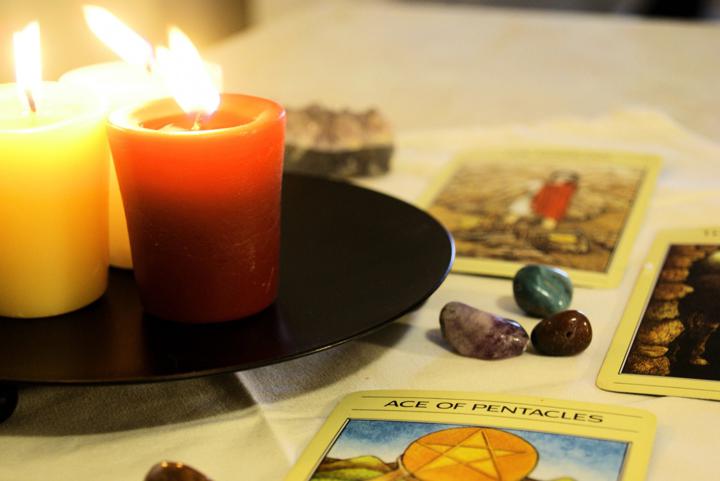 There are so many times when we can feel stuck in our lives, not knowing which direction to turn, what the best decision is, feeling at a loss for what the next step is…
Those are the times in life when we have a natural urge to seek answers outside of ourselves to get help and advice. But often when we ask friends or family, and get their opinions involved in our dilemmas, it can make it even more confusing! And harder to understand what your own intuition is telling you.
Tarot is the voice of your intuition
A tarot reading with me, Boston's top psychic, can help you connect back to your own intuition and where it's guiding you.
They offer quick and insightful information from an impartial viewpoint, so you don't have to worry about any judgement.
They're also a great option if you feel like having a psychic read your energy is invasive. Tarot is a great reading tool to be able to keep your distance, while receiving some real answers.
What's a Tarot card reading like?
A reading will focus on the energy around your current situation, as well as provide solutions so you can see the options you have in front of you.
A tarot card reading can help you:
bring awareness to the things that happened in the past that are hindering you in the present
see how your present situation is affected by things within and outside your control
get insight into unseen and unconscious factors that you may not be aware of
get a peek into the future to come, based on the current energy of the reading
weigh decisions and figure out the path to obtaining your goals
find direction and more clarity around your feelings and the lessons of your experiences
get insight into your own intuition, and where it's been guiding you, helping you feel more validated and understood!
Tarot is a divination tool that's been used for centuries, for good reason.
Tarot cards are a tool that have received a bad rap at times in its history, but the history is so vast that it's just a blip on its radar.
Tarot was created from symbolic archetypes, which a skilled reader can use to interpret the answers to your questions. Much of it is based in numerology and astrology, so there are a lot of clues and insight to be found even in a single card.
Even the pattern and arrangement of the cards, and the order they're laid down in, all has meaning and symbology that the reader can use to gain insight into all areas of your life.
Tarot cards are also visually engaging and beautiful, exhibiting art that immediately evokes emotions, and associations. The images alone can help translate the messages that your intuition most needs to hear, especially if you're a more visual learner.
Receiving a tarot reading from a top psychic can also be thrilling, watching them piece together the clues the cards hold, unwrapping the mysteries of your life.
It is indeed a skill that one needs to practice and hone to be able to decipher the puzzle the cards lay out. As Boston's top psychic, I have decades of experience doing just that. Reading tarot is like second nature to me, and I'm always excited to see how the cards will provide the path for my clients!
Contact Boston's Top Psychic Today
Over the past 30 years, I have used my intuitive gifts to help my clients connect with their higher selves so they can live their best lives. If you'd like the help of a professional intuitive and want to book your Zoom or phone session, CLICK HERE.