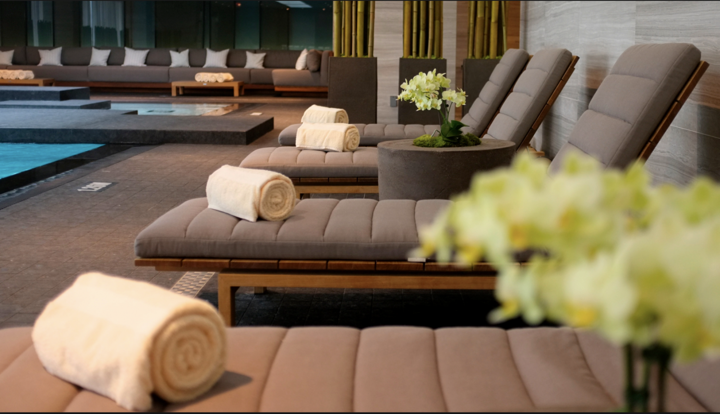 Award-winning Mii amo Spa in Sedona, Toronto's prestigious Four Seasons Spa, and Tuscon's Miraval Resort…
You expect renowned spas such as these to offer massage, aromatherapy, nail services, and other skin and body treatments to their clients. But, it may surprise you to learn that they include psychic readings as part of their comprehensive wellness services. In fact, more and more wellness centers across the globe are offering psychic readings, intuitive massage, and the like as part and parcel of creating – and enjoying – a balanced, healthy lifestyle.
The reason?
Our well-being is dependent on more than just the physical.
It includes our search for meaning and purpose, no matter whether you find that in a therapist's office, a place of worship, or a session with a psychic medium.
Because while diet, exercise, genetics, and our physical environment all play a role in our health…
We are also made up of energy.
And this energy – reflected in our behavior, our emotions, even our thought patterns – has an affect on our physical bodies.
When you expand your perception of energy to include not only the physical but also the spiritual, you open yourself to a more authentic and joyous life.
Here are 5 ways psychic readings can help to improve your mental, emotional, and spiritual health – and your overall physical well-being.
#1. Greater clarity.
Some of us go through periods of our life that are chaotic. Others are just too busy in the day-to-day to actually reflect upon things so that we can make sense of them. Still others of us would prefer not to face our current circumstances head-on.
A psychic can help to give you insight into your past and present situation.
This journey toward self-discovery can help you to see what course your life is currently on and the lessons you need to learn to change the pattern and move forward to better outcomes.
#2. Increased self-awareness.
Your psychic may be able to bring to your conscious attention the behaviors or thought patterns that have not been serving you well.
Our fears, resentments, jealousies, toxic dependencies, and unresolved traumas keep us stuck.
By bringing these to light and understanding the ways in which we resist them, we can replace them with more realistic and appropriate beliefs that nourish – instead of deplete – our authentic selves.
#3. Enhanced intuition.
A psychic medium is able to put you in touch with the wisdom of your authentic, higher self, and the Universe as a whole.
When you are aligned with your true self, you come to understand what your real desires and needs are – what feeds your soul.
A calm confidence then begins to take root, giving you the tools you need to make better decisions, which inevitably lead to better results in your life.
#4. Increased sense of connection.
Not only do psychic readings help you to reconnect with your true self, but you may experience a connection to something greater.
By reaching out to loved ones who have crossed over – as well as your spirit guides – you will understand that we are not alone in this world.
Whether you are looking to make peace with a lost loved one, or you want to know that someone dear to you is safe on the other side, the belief in life after death can boost mental well-being and lower stress levels.
#5. Greater balance.
There's a groundedness, a centering that comes with being in tune with the wisdom of your higher self and the Universe.
When you are calm and rejuvenated, you are better able to manifest the life that you want by making decisions based on what you truly need and desire.
Contact Boston's Top Psychic Today
Over the past 30 years, I have used my intuitive gifts to help my clients connect with their higher selves so they can live their best lives. If you'd like the help of a professional intuitive and want to book your Zoom or phone session, CLICK HERE.