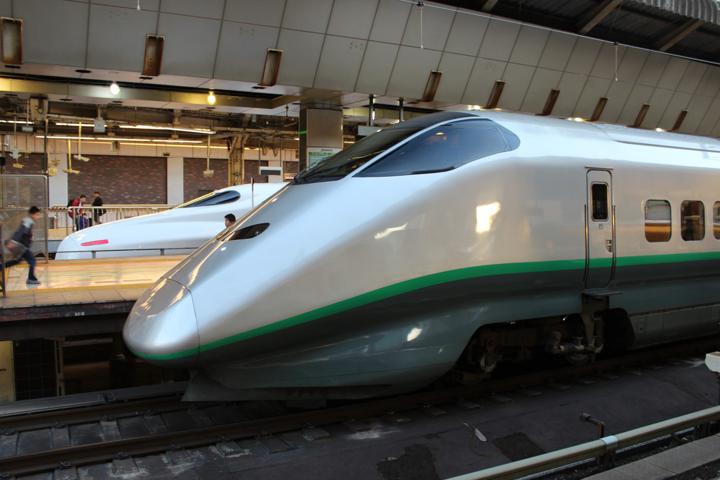 What happens for you when you hear the words 'life coach'? Or 'intuitive coach'?
When I first heard these terms I was confused. To me coaching was reserved for the sports realm. And when I got past that, and considered deeper into what a 'life' coach might be, and when I saw some of the people who were promoting themselves as life coaches, I scoffed and dismissed it.
Many of us were taught the staunch value of independence and self-reliance. Indeed they are important values, and yet as a culture, and in many of our individual lives, these values have taken such weight as to block us from creating what we want in our lives with much more ease, grace and speed.
In Japan there is a bullet train that rockets passengers at speeds of up to 320 km/ hour. The experience is so different from our usual ways of traveling on the ground that most people are shocked at first.
Picture this: you stow your bags, sit in your comfortable train seat, pull out your book or laptop or are just gazing out the window – then the train begins moving. At first it's normal, though soon the velocity increases so fast you feel like it's some kind of new carnival ride. You're pinned to your seatback. While your cheeks are not quite rocketship-flapping, you can feel them being sucked toward the back of your skull (with the awareness that it's probably not your best look).
What's even more amazing though, is that after a few minutes like this, the newness of it fades, as do the sensations, and soon enough this speed becomes your new normal. You get up and walk around, go to the restroom, order a beverage.
From Japan to Boston – intuitive coaching as a medium to the fast track
Especially those of us who grew up in New England, steeped in the Yankee mentality of hard work – and sometimes even with the idea of suffering being a badge of honor – tend to have some skepticism toward easier and faster ways of doing things.
The Bullet train is a lot like coaching. We can drive, or take the regular train. We'll get where we want to go sooner or later, even if it takes a long time and the ride is bumpy. Utilizing a coach is a way of saying 'I've taken the hard way long enough. Now I'm ready for some speed and ease.'
It's only for you if you're you're wanting to get where you want to go in your life – career, family, finances, relationships – with less pain and delay. When would now be a good time to create all that you dream of?
Your Boston Psychic and Intuitive Coach
 As Boston's top intuitive and psychic, I've gotten to experience the benefits of coaching from a few angles. I wouldn't be where I am without mentors, guides and coaches. Their guidance and support has saved me so much time and effort, and ultimately money too. I'm extra lucky in that I've also been blessed with a clear line of communication from Spirit.
On the other side of the intuitive coaching relationship I'm also grateful for the opportunities I've had to support and guide thousands of people, from entrepreneurs to athletes to stay-at-home parents.
With an intuitive coach, the benefits and blessings are even greater in that in addition to the coach's support, you get to receive directly from spirit as well. I'm often amazed and touched at the magic that occurs. Sure, I've got a lot of experience and wisdom to share and I know what questions to ask to elicit your own answers. And when your higher self and Spirit conspire to communicate directly to you through me, that's pure grace – and the results speak for themselves.
Contact Boston's Top Psychic Today
Over the past 30 years, I have used my intuitive gifts to help my clients connect with their higher selves so they can live their best lives. If you'd like the help of an intuitive coach and want to book your SKYPE or phone session, CLICK HERE.