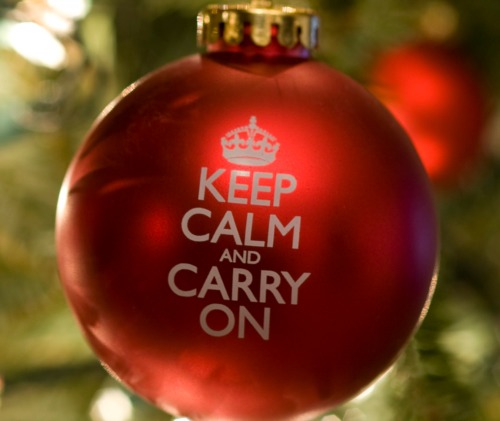 The holidays allow us to pause and truly take time to connect with our families, friends, and loved ones. However, for many of us, it can also mean a great deal of anxiety that stems from myriad sources, such as:
-having to prepare for and host a large holiday party;
-the stressors of financially overextending ourselves on gifts;
-long-distance travel by way of plane, train, or automobile; or
-having to endure those family members that we may truly love, but don't particularly like or enjoy.
And these are just a few of the reasons that we feel more nervous during this merriest of seasons.
How to Manage Your Holiday Anxiety
Below are four tips to help you manage this anxiety.
Tip #1: Get sufficient sleep.
The holidays tend to take you out of your regular routine. You and/or your family may not have to get up early to go to work or school, but that doesn't mean you have to throw your schedule out the window, sleep in until noon, and stay up late. It's important to get enough sleep every night. Research suggests that sleep deprivation can actually cause more anxiety. So try to stick as much as possible to a regular schedule and get enough sleep so you can recharge your brain, improve your focus, and elevate your mood.
Tip #2: Eat as healthily as possible.
At this time of year, we're surrounded by candies, chocolates, cakes, and more! As much as possible, try not to overindulge on the sweet treats. While sugar doesn't cause anxiety, it can make your symptoms worse. Eat balanced meals, and perhaps a small sweet after dinner. This will avoid the rush of energy and sugar crash you get when you go straight to dessert on an empty stomach.
Tip #3: Don't stop exercising.
If physical activity is a part of your usual routine, it's important you stick to it during the holiday season. It's very easy decide to treat yourself by taking a day or week off from the gym. But physical activity works as an excellent anxiety management tool. It takes your mind off your frustrations, and releases mood-enhancing endorphins.
Tip #4: Take a few minutes every day to meditate.
Not only should you foster a healthy body, but you should also foster a healthy mind. One great way to combat and relieve the holiday jitters is to indulge in just a few minutes of meditation every day. Not only will it decrease any depression you may be experiencing, but it has been proven to make people more resilient to stress, reduce stress levels, and relieve emotional pain, all of which will make you much more compassionate to those around you.
So breathe deeply, be present, tune into your body, and remember during those tough anxiety-riddled moments that we all want the same thing. If you're feeling hurt by a family member, understand that they, like you, are doing the best they can. Pause to center yourself (leave the room if you have to), clear your mind of the overwhelm, and let the feelings and emotions pass through you.
How Boston's Best Psychic Can Help You With Anxiety
I believe that only when we change our thought patterns, can we change our moods and allow ourselves to heal, physically and spiritually. Our thoughts are powerful and have significant effects on our minds, hearts, and bodies. Guided meditation is an excellent way to relieve stress, both the acute (during the holiday season) and the chronic (if you suffer from it every day of your life).
I have been giving psychic intuitive sessions for nearly 30 years, and have helped multiple clients open themselves to mindfulness and broaden their understanding of the importance of inner peace in what can sometimes be a chaotic world. I help others understand where their anxiety comes from, how to let it go and not let it impact them, and how to move toward healing.
Get a gift certificate today, and give either yourself, or your loved ones, the gift of serenity. To purchase a gift certifcate or book a reading, click on the blue tab at the bottom of the page. I look forward to reading for you!  
Contact Boston's Top Psychic Toda
Over the past 30 years, I have used my intuitive gifts to help my clients connect with their higher selves so they can live their best lives. If you'd like the help of a professional intuitive and want to book your Zoom or phone session, CLICK HERE.