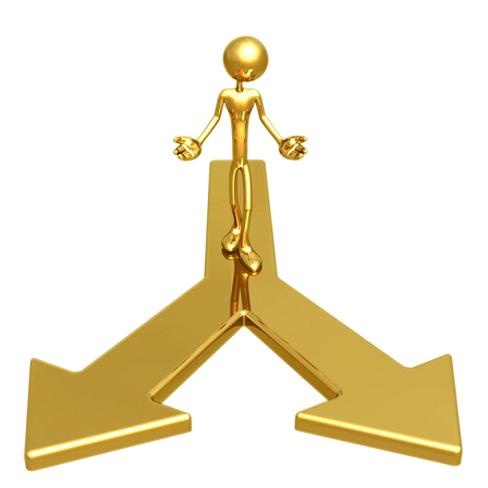 When it comes to predicting the future, it is best to keep in mind one very important variable, our free will. Many people think that the future is predetermined, or that a psychic reading can pinpoint what your future holds. The bottom line is that every human in the world is born with free will.
Free will allows us to change our future, for better or worse, through a series of choices. When you visit a psychic, they may pin point a certain area of your life that you are having difficulty in. If you continue down the road of speed bumps, it's most certain that you will never reach your goal. However, if you use your free will and decide to veer off the bumpy path and onto a smoother, quicker road, you're chances of success are greatly improved.
To understand more about how free will impacts predictions about the future click here
If we didn't have free will, we wouldn't have the ability to make any choices. We would be a society of puppets on a string, walking around being controlled, with every moment already laid out for us. Not only would that be incredibly dull and monotonous, it wouldn't allow us to experience all that life has to offer.
I have a funny example that illustrates free will. My father, a conservative man and a skeptic, gave me a chance to prove to him that I was psychic. During one Christmas gathering, Dad and asked me to read his cards. He had one question. He wanted me to predict what time he would get home from his trip. My intuition told me and I relayed, "8:00 pm." Dad replied, "You're right that is the time I will be getting home." 
On the day Dad returned home, he went to the airport early and asked for and got on an earlier flight. Dad flew to Atlanta where he'd left his car. Normally, Dad stops for dinner but this time he bought a sandwich and kept driving. When he arrived home, Dad called me and said, "You were wrong about when I'd get home. I just walked in the door and it's 5:00pm not 8:00pm." This story about my mischievous Dad illustrates free will. He exercised his right to make alternate decisions and changed his future.
But what about fate, or destiny? You may be wondering where that fits in to all of this. I believe that there are some predetermined aspects in all our lives that we have little control over. We all have a destiny to fulfill. Before we are born, our spirit lays out a contract with the universe about certain events we'd like to experience for the purpose of our evolving soul. But it is never certain how these events will play out, only that they eventually will; like meeting your soul mate or having children or landing your dream job.
Click Here To Find Out More About When Psychics Make Predictions
However, our free will can work for us or against us. You may be destined for greatness, but your free will continues to make choices that keep you farther away from attaining it. Perhaps you will not achieve greatness in this lifetime, but the beauty of the universe is that you will have another chance at it in your next life, if you so choose.
It could also be that you did not choose to experience greatness in this lifetime. Your soul contract may be that you're here to learn about compassion or compromise or loving yourself despite life's disappointments. Whatever the lesson you're here to learn, you'll certainly be tested many times on that issue before you've mastered it, and move on to the next lesson.
Getting back to psychic readings. There will always come a time that a psychic prediction does come true. There have been many times I have intuitively felt someone was about to meet a new love or have a child and it came true. How is this possible? Your past, present and future are infused in your aura ,which is the energy field around your skin. As a psychic intuitive reader, I sense the energy fields you are emanating in the present, right at the moment of the reading. I can see where you are heading if you stay on the path you are currently trekking, but any one choice, be it your own or anyone involved in your situation, can make or break the path you follow.
As a psychic intuitive reader, it is my job to empower you to make the best possible choices with my good intent for you to reach your goals in life. If you come to me with very specific questions about what your future holds, we can explore the many potential outcomes based on your free will. Remember, only you have the power to control your future and every decision you make will define it, now and for eternity.
Contact Boston's Top Psychic Today
Over the past 30 years, I have used my intuitive gifts to help my clients connect with their higher selves so they can live their best lives. If you'd like the help of a professional intuitive and want to book your Zoom or phone session, CLICK HERE.