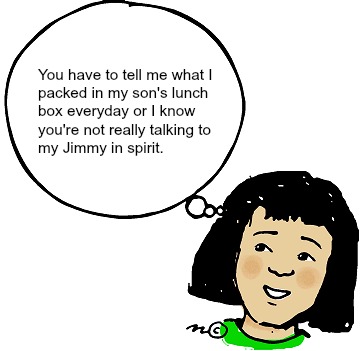 The day has arrived. You're going in for a psychic reading. You've never been to a psychic before, and you're hoping you'll get a great reading like your friend Alice did. You want to be in control of the session so you establish a secret code word or symbol in advance that the psychic must say for you to believe he or she is legitimate.
Unfortunately, that requirement may reduce your chances of getting a good reading. Here are two reasons why. By demanding that the psychic give you one specific code word or symbol, to convince you that he or she is trustworthy, you may miss out on a great reading. He or she may be able to give you 30 -40 other pieces of information equally valuable to you as your code words but you won't hear any of it until you hear the secret code.
The second reason is that by setting up code words and symbols you come to your reading as if you know how this all works. Nobody knows for sure how this all works. Remember you're not dealing with logic. In fact, trying to be logical makes it less likely that a psychic will be able to read for you. When you create a barrier for the psychic information doesn't flow freely to them. Surprisingly, it doesn't create a barrier if you say nothing during the session except yes or no. In mediumship readings, mediums prefer you don't tell them anything. He or she wants to tell you what they're receiving from a spirit. 
For your 30 – 60 minute session, let go of trying to direct the psychic reading. Let it be what it's going to be. Suspend your disbelief that a psychic could know these things. When you hear something that seems farfetched or contrary to what you think or believe, try not to be dismissive. Certain information may be in the future. Also, wait and check with friends and family who might know things that you don't know. If you really feel like you're not connecting, speak up! You need to say something within the first ten minutes. If you say something, you may be able to get into sync. Make sure you know what the psychic's refund policy is as it can vary.
Contact Boston's Top Psychic Today
Are you ready to get in touch with your intuition and figure out your true goals in life? If you're interested in scheduling an intuitive session with Boston's top psychic, CLICK HERE to book your ZOOM or phone session.